When we were kids we all used to have our own heroes. And we all wanted to grew up as fast as possible and became that hero, even if we're taking about becoming a firefighter, a doctor or a police officer. Sometimes dreams came true or sometimes we've chosen another way. But there situations when life is so merciless with some of us and all the dreams are just taken away.
It is the case of six-year-old Abigail Arias from Texas. The dream of her life was to become a police officer. But life wasn't fair with her as she was diagnosed with Wilms Tumours, a kidneys cancer. Even so the little girl don't gave up to her dream. And with the help of Freeport Police Department she managed to fulfil it.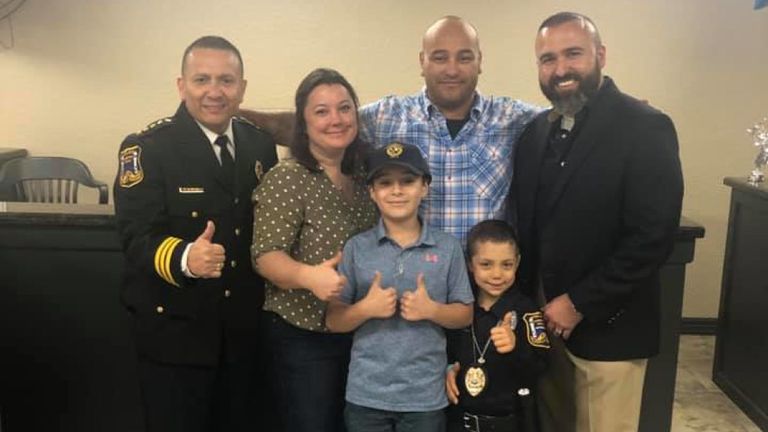 Her dream came true this week, when Abigail became a member of Freeport Police Department. And her mission is to 'keep fighting the bad guys,' as she declared in her new role.
And such a moment definitely needed to be shared. So the Police Department posted the emotional moment on Facebook with the next message:
Congratulations to the newest member of the Freeport Police Department, Honorary Officer Abigail Rose Arias!

She took an oath today to continue fighting the "bad guys" until she is cancer free!

What a great day for the City of Freeport, and our Law Enforcement Family from all over this great state, who were in attendance! Also a special thanks to Rick Fernandez owner of Cop Stop Inc. for the wonderful FPD uniform and duty rig! #thinblueline
Asked about how does she feels about her dream becoming true, the girl said:
"I have cancer. The bad guys are in my lungs. I rung the bell, but now this cancer is coming back."
"Her spirit, her toughness, her will to survive, that's what [we believe in]. Her terrific smile and will to keep fighting 'the bad guys' inside of her – I wanted to make her dream come true. You have to meet her to really understand what a great and inspiring young lady she is," Freeport Police Chief Ray Garivey told to CNN.
The heart melting moment was massively shared with people applauding the police initiative of making all these possible.
In a post, Angleton Police Department wrote:
This morning APD Officer Brad Briscoe attended a special swearing-in ceremony at Freeport Police Department where Abigail Arias was made an Honorary Police Officer.

Abigail is battling cancer, and doctors have told the family there is no cure.

Freeport PD helped fulfil Abigail's dream of becoming a police officer and held a ceremony for her this morning. Please keep her and the Arias family in your thoughts and prayers.
Let's all pray for this little angel!