After two years of planning, a group of homeless veterans in Kansas City, Missouri will finally have a place to call home. The Veterans Community Project built 13 tiny homes, consisting of four family units and nine single units, all fully functional. Not only will these veterans have a place to call home, they will also have access to classes on how to manage finances, cook, stay healthy, and overcome substance abuse.
Members of the Veterans Community Project believe that without these homes, many veterans would end up in jail or still be homeless. They plan to continue on the progress made here by adding 19 more homes during phase two of the project. There are also plans to build a community center for the residents.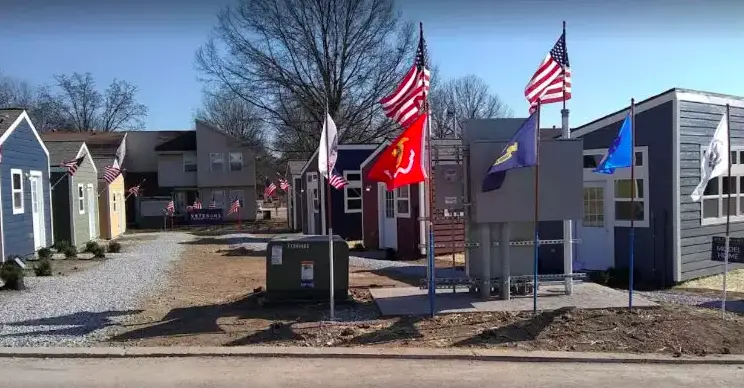 During an emotional ribbon-cutting ceremony, the Veterans Community Project received the City Council's final blessing: the power was turned on in the newly designed homes.
"One of the vets was sitting out there last week, watching the houses get built and was in tears," Mark Solomon previously told FOX4. "Literally just crying about the fact that he was going to be moving into one of these houses. That's real. That's what makes this all worth it and yeah, it's a ton of time and a ton of effort, but we're gonna be able to help these people."
Several commenters applauded the group for working hard to help veterans in need…
"This is awesome! So happy for the veterans receiving these blessings!"
"So proud to have volunteered with them and witnessed the growth of this organization from the beginning. I can't wait to see where they grow next!"
Others had questions about how the veterans were selected to have the opportunity to live in the tiny home community…
"How are these VETS selected? I don't want to see a good thing to waste."
And others had questions about the mental health needs of the veterans…
"How are you dealing immediately with the mental health issues? A house won't fix those. Mentors onsite?"
Far too many of our servicemen and women struggle with homelessness and addiction. The U.S. Department of Housing and Urban Development estimates that there are just under 40,000 homeless veterans, the majority of which are between the ages of 50 and 60 years old. The numbers of homeless veterans are in decline, in part due to initiatives like the Veterans Community Project. Housing and community projects like the one seen here in Kansas City is hopefully the start of more projects that give back to our veterans.
The combination of a place to live and the tools to live a better life, as modeled here by the Veterans Community Project, is a victory for everyone involved.