You may say that grown-ups are getting lots of headaches because of snow fallings, but apparently this rule doesn't work at pandas. After a major snowfall in the D.C. region, a family of giant pandas at National Zoo were caught on camera having the time of their lives.
❄️ As snow blanketed Washington, D.C., our animals woke up to a winter wonderland. With this weather event came another significant milestone—giant panda cub Xiao Qi Ji's first encounter with snow! Keepers say he took a little nip at the fresh powder. 🐾👅#SnowDay #PandaStory pic.twitter.com/8hYfYuoP5f

— National Zoo (@NationalZoo) January 31, 2021
While most of animals, from dogs to horses, love the snow, none of them does it like these lovely pandas. In a now viral video footage giant pandas Mei Xiang and Tian Tian are enjoying the snow just like a bunch of kids. They're rolling and sliding down the snow in a moment of "pure panda joy." As the two adult pandas are having so much fun in the snow, the panda cub Xiao Qi Ji who's experiencing his first snowfall, prefers to rather look than to step on that big white coat.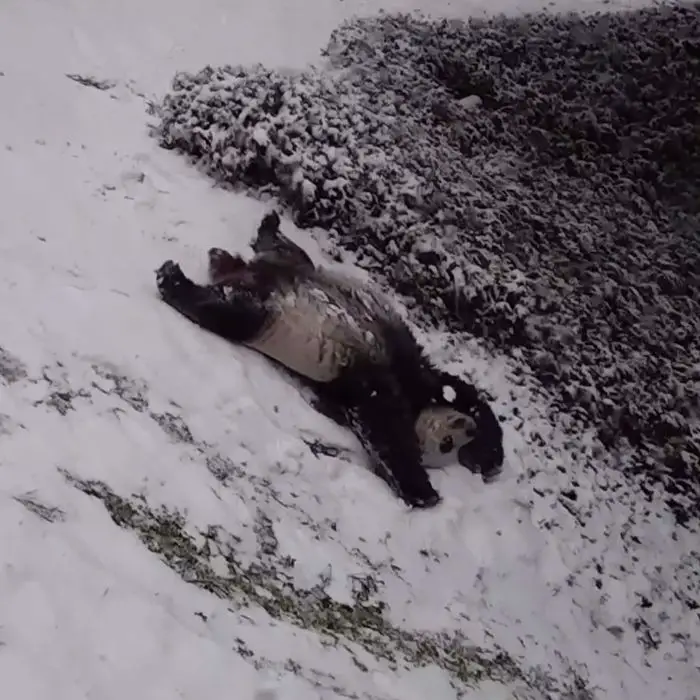 As the 5-month-old cub sheltered indoor, his mom and dad have no time to lose and they advantage as much as possible of the so waited snow. "He was very interested in looking around the zookeepers," the zoo wrote in a post. "However, he did go outside for about five minutes."
Watch the adorable moment here:
❄️🐼 Slides, somersaults and pure panda joy. Happy snow day from giant pandas Mei Xiang and Tian Tian! 🌨🐾
. . . #SnowDay #PandaStory pic.twitter.com/my02GwnPFL

— National Zoo (@NationalZoo) January 31, 2021
Native to Northern China, pandas are very familiar with snows and they're also known for their playful nature. Therefore, when a lovely panda gets into a snowy place, there is only on result and that's pure joy. Dogs and horses are also huge fans of snow days. There are countless videos of dogs getting extremely excited when jumping in the snow!