Donald L. Chapman Sr., better known as "Chappie",85 of Waterford, was born December 8, 1933 in New London, Connecticut to Herbert Chapman and Alice Goss Chapman. Chappie passed away peacefully at the Lawrence + Memorial Hospital in New London on December 23, 2018, surrounded by his family.
Chappie was predeceased by his wife, Marjorie Hulbert, his parents and his siblings Herbert Chapman Jr., Robert Chapman, Gary Chapman, Eleanor Hancock and Patricia Kerr.
He is survived by his son, Donald Chapman Jr. and his wife Lori along with their children, Kyle and Mitchell Chapman of Waterford. His grandchildren looked up to their grandfather as a role model and as their biggest fan.
Chappie had two step children, Robin Brailey of Gales Ferry and Scott Brailey (Robyn) of Fenton, Missouri. He had step grandchildren; Shauntee Chance-Duzant and Alyssa Bryan along with their children, and Jason Brailey. Chappie is also predeceased by his step grandson, Daniel Brailey.
Chappie was predeceased by his loving companion of 30 years, Shirley Hancock, of Waterford. He was a father figure to her three children, Joseph Hancock Sr (Kathy) of New London, Robert Hancock (Diane) of New London, and Mary Ann Hancock of Worcester, Massachusetts along with her daughter Maddie. Joseph Hancock's children, Abby and Joseph Jr, looked up to Chappie as a grandfather and he played a significant role in their life.
After graduating from Chapman Technical School in New London he joined the US Army where he was honorably discharged for his service to our country. Chappie was well known for his dedication to the emergency services field, Chappie was always someone that younger firefighters would look up to for advice. Beginning as a substitute firefighter with the New London Fire Department in September of 1959, he quickly became devoted to the agency and was subsequently appointed as a career firefighter in October of 1965. He was promoted in May of 1985 to the rank of Fire Lieutenant, and retired in July of 2000. During his 41 years of service to the New London Fire Department, he received numerous commendations including the 1981 VFW Post 189 Firefighter of the Year award.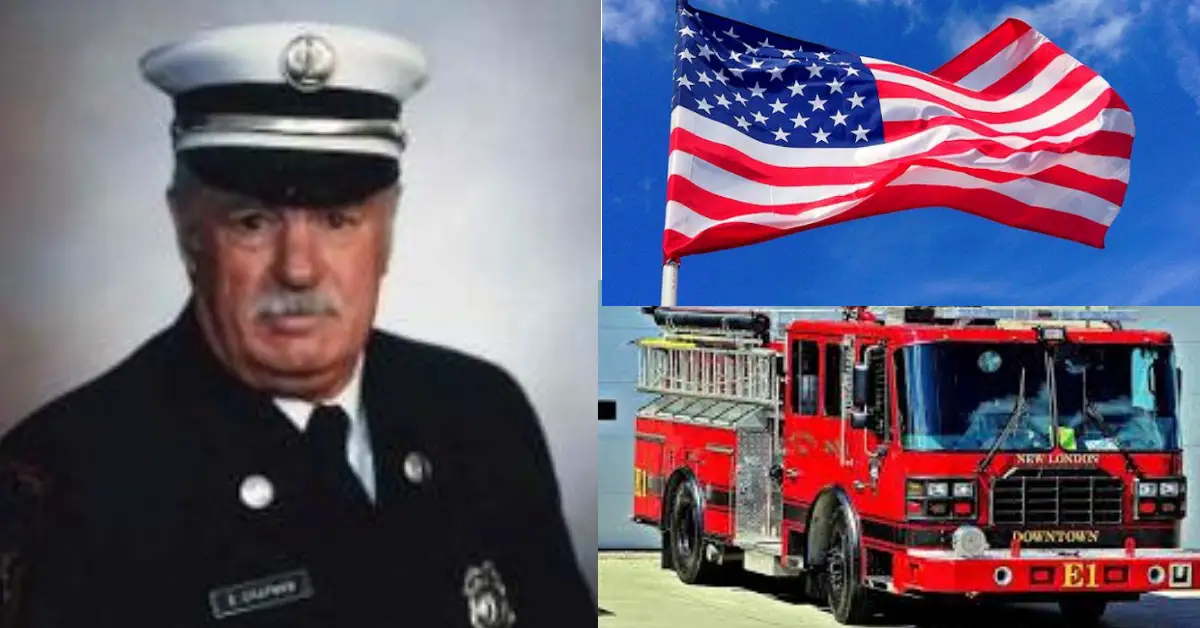 In his spare time, Chappie volunteered with the Waterford Fire Service. He was a lifetime member of the Goshen Fire Department and has held numerous positions within the department, including as Deputy Fire Chief and Fire Commissioner. Well known for his famous wood fire clam chowder at the Fireman's Days Fair and for his "broad street burgers" at department meetings, he was always looking for new ways to get involved.
While working as a fulltime firefighter, Chappie also worked in the automotive industry. Since 1978, he was employed by Padgett's & Sons Auto Body in New London, where he remained until a month before his passing.
Chappie was an active member of multiple organizations in the New London area. As a member of the New London Firefighters Union 1522, Chappie also supported and volunteered with the Surfers Drum & Bugle Corp. He served in numerous roles including as a chaperone and a member of the group's Board of Directors.
In lieu of flowers, the family respectfully requests donations be made to the Dr. Weiss Scholarship Fund (P.O. Box 969, New London, CT 06320) or the Charles Pompea Scholarship Fund (Goshen Fire Department, 63 Goshen Road, Waterford, CT 06385).
Visitation Friday December 28, 2018 from 5:00pm – 8:00pm at the Byles Memorial Home, 99 Huntington Street, New London. Funeral Service 10:00am Saturday, December 29, 2018 at Byles Memorial Home. Burial with military honors will take place at Jordan Cemetery in Waterford.