Doughnut distress that struck the Lexington Police Department earlier this week was remedied Wednesday by Krispy Kreme.
After a Krispy Kreme truck caught fire in Lexington Monday, the department posted comical social media photos of the "dismayed" officers, and the reaction went viral with the story reported nationally and worldwide. The doughnut chain promised the mourning officers Tuesday that more doughnuts were on the way.
With police escort, Krispy Kreme delivered dozens of doughnuts to the police department at 2 p.m. Wednesday at the East Sector roll call center on Centre Parkway. The delivery was made in a Krispy Kreme truck similar to the one that caught fire, and one of the grieving officers, Kyle Mounce, was on hand to receive the glazed-covered treats.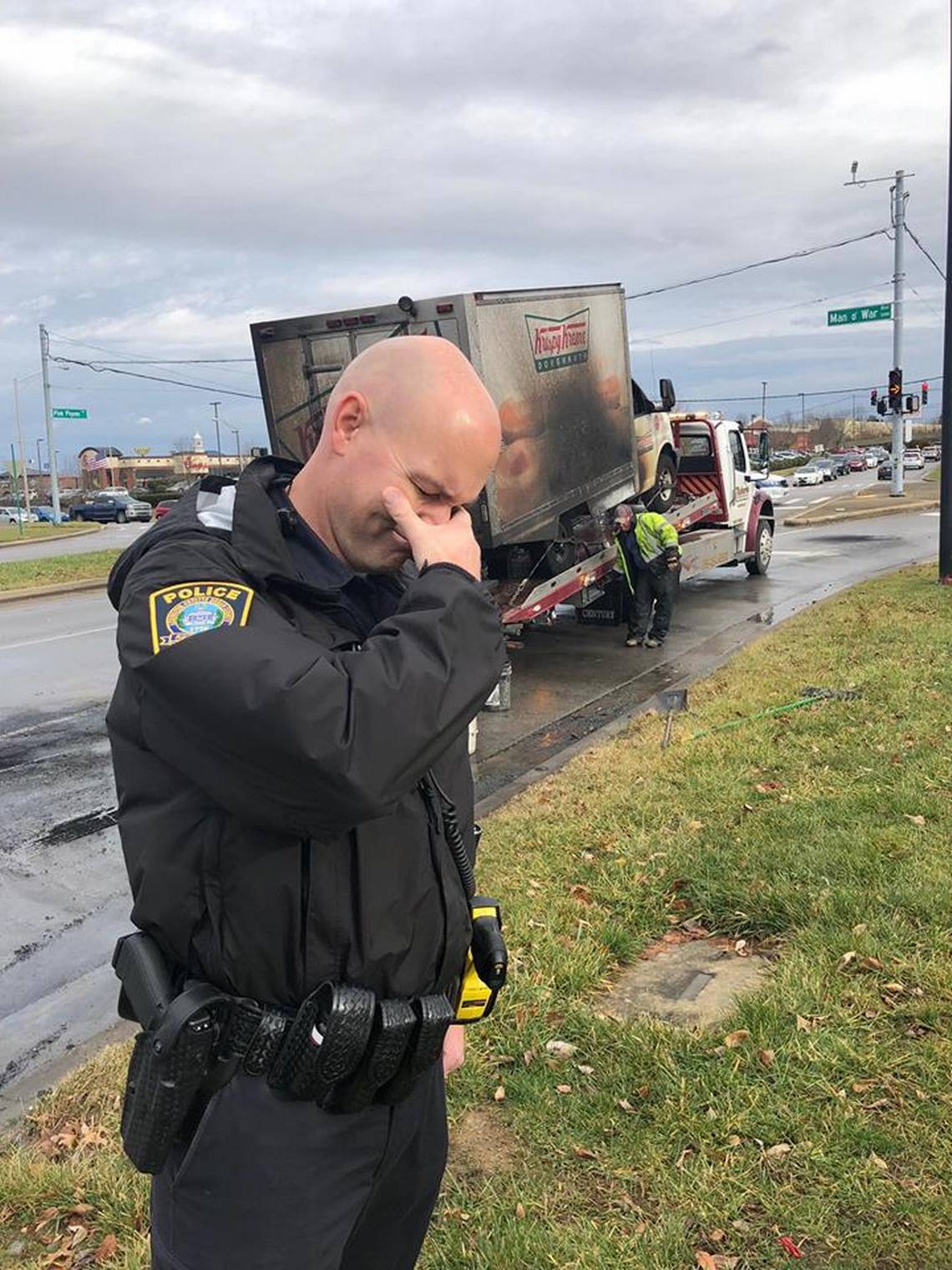 The Lexington Police Department post with the upset officers was shared more than 75,000 times on Facebook and retweeted more than 30,000 times on Twitter in less than 48 hours.
Mounce said the reaction the post has received has been unbelievable.
"I'm totally shocked at how it's taken off," he said. "It came about as just sharing it with co-workers … and it's blown up from there. I can't believe it."
Police departments throughout the country, including the New York Police Department, sent their well wishes to Lexington's officers. Stories appeared on national publications' websites Monday and Tuesday.
Dave Skena, the chief marketing officer for Krispy Kreme Doughnuts, said it was great to see the police department deal with the fire in a fun way.
"Seeing their post, the logical reaction was to bring comfort to them in their time of sorrow, and the only kind of comfort we know is with great, delicious doughnuts" he said. "That's what we can do to ease their pain."
No words. 😭 pic.twitter.com/eRzvxztVlG

— Lexington Police (@lexkypolice) December 31, 2018
The response to the fire was initially serious, as expected.
When officers arrived, the truck was fully engulfed. No one was injured and the fire was put out quickly, Mounce said.
"The first thing we had to do was make sure no one was in the truck," Mounce said. "After we confirmed no one was in there, we thought, 'How are we going to save these doughnuts?'"
Luckily, the truck contained very few doughnuts. Most of what was inside the truck was waste, according to Mounce.
The social media post and subsequent reaction from Krispy Kreme allowed the police department to show a different side.
"Every officer I know, we all have a great sense of humor. We just don't get to share it often because our encounters with the public often don't call for humor," Mounce said. "This was a great way to bring smiles to people's faces and make people laugh."