What started as his worst nightmare, turned into a happy ending story for a tiny little puppy. Abandoned on the streets of Los Angeles, the helpless pup was nothing but scared and confused, but fortunately his tiny paws carried him face to face with the kindest people – two patrolling officers of the Los Angeles Police Department!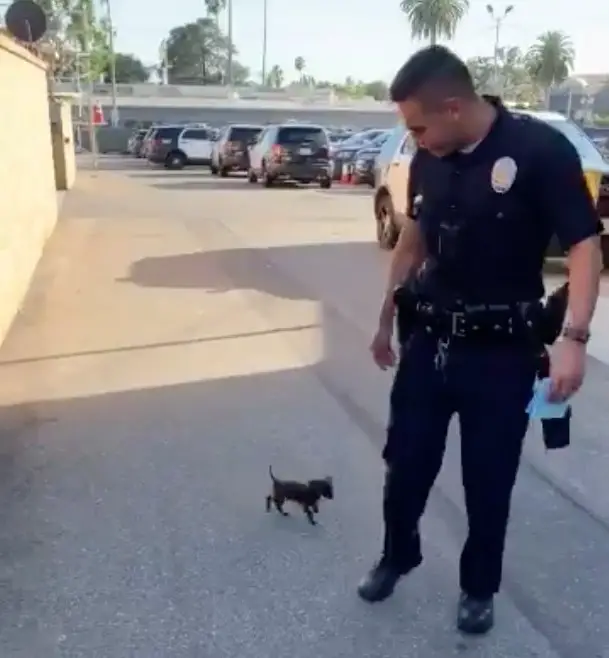 Officers Mercado and Tavera were on duty, patrolling on the streets of the city, when they spotted this cute little puppy wandering all alone on the Hobart Boulevard in LA. They immediately approached the puppy, assuming he might get lost, but judging on how he was looking, he was likely abandoned. But even though he looked weak and hungry, he was all a smile when met the two officers and his tail didn't stop wagging not even for a second.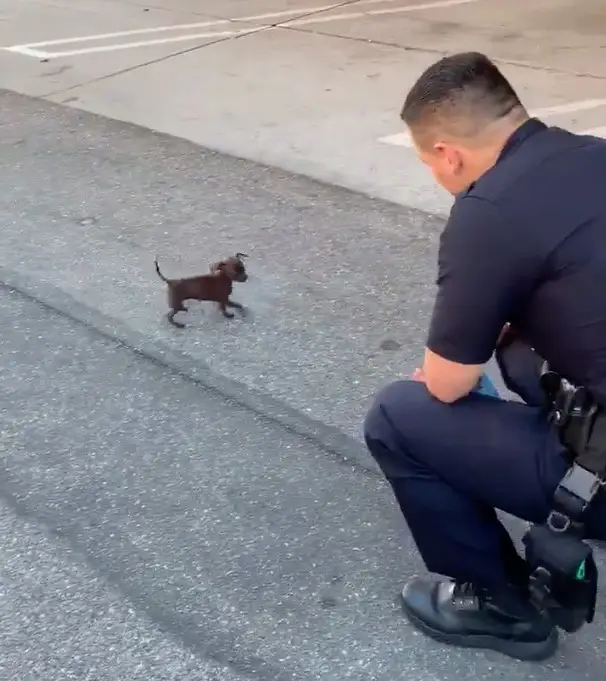 Upon such an adorable fluffy ball, the officers couldn't help but instantly fall in love with him. So they just rescued him and gave him a ride to the police station. Officers are highly trained to not get emotionally involve during their missions, but this time things were very different.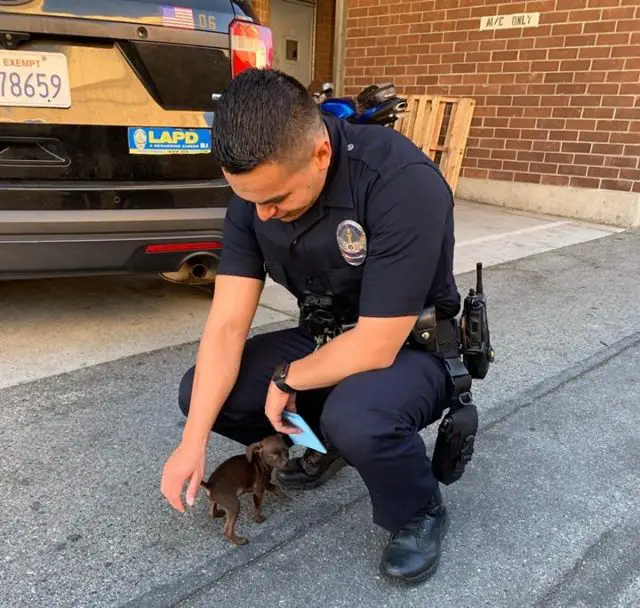 During the trip back, the rescue puppy didn't stop cuddling with officer Mercado. He just sat comfortable into his arms, unwilling to ever leave his side. And this sign of affection went straight to the officer's heart who decided to make the tiny puppy part of his family.
Newest member of our K-9 unit 😉Officers Mercado & Tavera found a puppy while on patrol near Hobart Blvd, they took him back to the station and have officially renamed him, "Hobart" Welcome to LAPD Hobart! pic.twitter.com/rWqP8WsRnx

— LAPD Hollywood Division (@LAPDHollywood) October 5, 2019
Nonetheless, once they arrived at the police station, they checked once again, just to make sure no one's searching for the little puppy. But as it turned out, he wasn't microchipped and there was no announcements that he might got lost. The adorable puppy was named Hobart, inspired from the street he was found, and now he lives happily with the kind officer Mercado and his family!
Hobart won't leave Officer Mercado's side!! 🥺 #HollywoodHobart pic.twitter.com/S5e4rQUZAx

— LAPD Hollywood Division (@LAPDHollywood) October 5, 2019
"A lot of you have been asking what Hobart is up to these days," the police department wrote on Twitter. "You will be happy to know Officer Mercado has adopted him and he is now living the good life with Mercado and his family!"