Well, my job is done: this has to be the cutest, most adorable pup in the world! But Popeye won't just impress you with his cuteness; this little buddy also has an impressive life story.
You see, Popeye hasn't always been the happy, loved pup he is today. That's because this little canine had a rather tough start in life. The puppy got to experience the ugly side of life after being abandoned off the streets of L.A. Popeye used to be a stray, struggling to find food on a daily basis. It breaks my heart just thinking about how many times this tiny pup was probably starving or eating whatever he could find.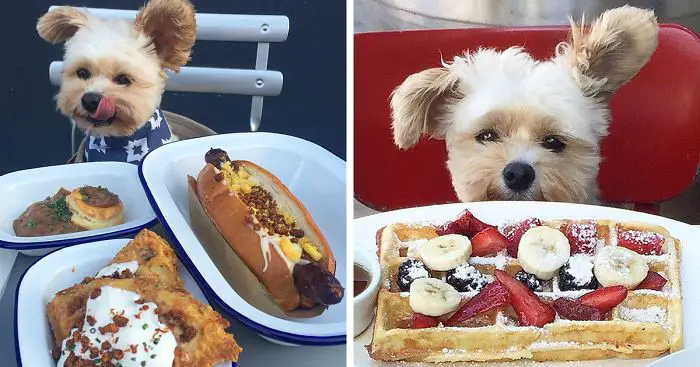 Fortunately, his life significantly changed for the better thanks to his current owner who found him on the street and decided to give him a forever home. Here's what the woman told exclusively for Bored Panda about the moment she first found the pup on the streets: "He was such a mess – super skinny, heavily matted, dirty."
Although the woman already had a dog full of dogs and wasn't actually looking for a new dog, she ultimately decided to keep him after no one else wanted to adopt him. "It wasn't long before he made himself at home at my place with my other dogs. And of course, my husband and I fell in love [with him]," she added.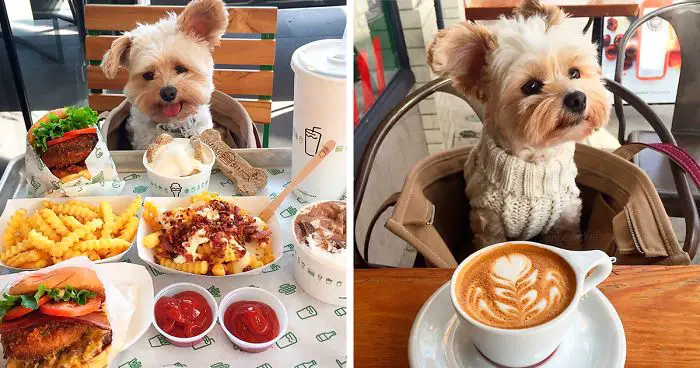 It turned out to be a great decision, of course. Now, the two go everywhere together, including some of the most famous dinners and fast-food places in L.A. Popeye is now being taken to pet-friendly restaurants almost every day.
The photos of him in front of his food are downright adorable! Puppies and food….that has to be the best combo ever!