It frequently happens for police dispatchers to receive very unusual – sometime even outrageous – calls, but this 4-year-old kid from New Zealand offered the sweetest emergency call in human history. All after he called to kindly ask the police to come over and see his cool toys.
But the police department showed they can also offer sweet moments, as well. An hour after the kid called, an officer had been dispatched to pay a visit to the boy, to check out his toys' collection. Officer Constable Kurt with the Southern District Police, arrived at the scene to see if the kid's toys are indeed, as cool as he says. The officer and the little boy even took a photo together, which was later shared on Facebook by the New Zealand Police. More, the police decide to make public the adorable audio of the call, as they called it "too cute not to share."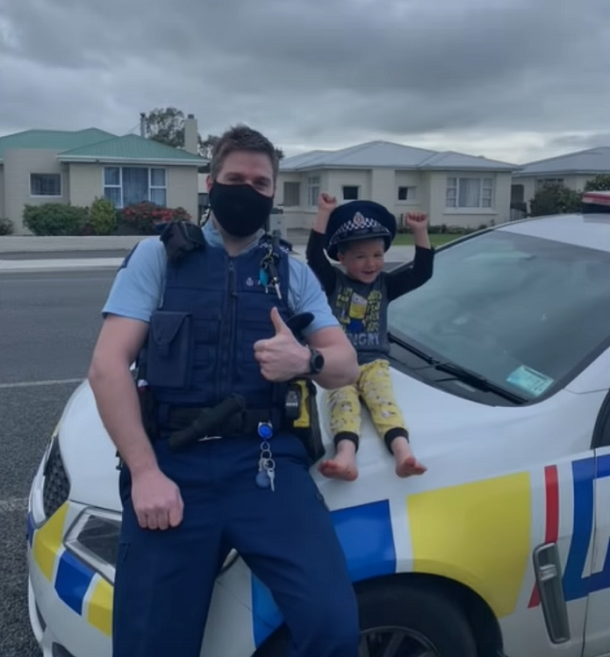 "This is police, where is the emergency?" the heartwarming call begins. Then, the 4-year-old can be heard: "Hi…Police lady?..Um, can I tell you something?…I've got some toys for you."
"You've got some toys for me?" the dispatcher said. "Yep. Come over and see them," the kid replies.
Then a man grabs the phone and tells the dispatcher it was a mistake, and the kid got the phone while he was dealing with the other child as their mom is sick.
But shortly after the call ends, the dispatcher decides to surprised them. "There is a 4-year-old there who is wanting to show police his toys, over," she announces. And an officer volunteers: "Yeah, I'm one-up, I'll attend to," the officer, later identified as Constable Kurt said.
Officer Kurt later confirmed the kid has some pretty cool toys. More, he even offered the youngster the chance to have a close look to his patrol car. "He did have cool toys," the officer said. ""The lucky kid also got to see the patrol car and the officer put the lights on for him, too."
Here's the now viral, audio call: