Judson Box has never known exactly what happened to his son Gary September 11, 2001. But an unexpected find years later has given him a glimpse into his son's final hours.
Gary, then 35, had been working as a firefighter in Brooklyn for roughly five years. He did not speak to his father on 9/11 and he was never recovered, leaving the circumstances of the event a mystery.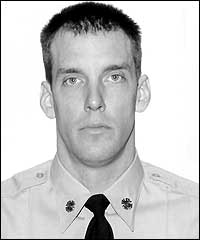 On September 11, 2009, Gary's sister, Christine, was visiting the Tribute Center when an employee asked her if she was looking for someone specifically. She mentioned her brother Gary, and the employee showed her to a picture of a firefighter in the Brooklyn Battery Tunnel that had a caption bearing Gary's name.
But it was not Gary. It was a photo of Brian Bilcher, another member of Gary's fire squad.
The discovery compelled Gary's father to dig deeper, clinging to the possibility that there could be a similar picture of his son out there.
Box scoured photo archives of the National 9/11 Museum and the memorial's website, which allows users to upload photos from 9/11 directly to the site.
After searching one night for more than five hours, Box went to sleep, physically and emotionally exhausted. The next morning, his wife, Helen, called him into the living room as he was eating breakfast.
She showed him a photo of a firefighter running through the Brooklyn Battery Tunnel toward the Towers alongside cars stuck in traffic.
This time, it was Gary.
"I was out of out control, emotionally," Box said. "Thanking God, being so happy that I had something to see."
Eager for more answers, Box contacted the National 9/11 Museum and Memorial in an attempt to track down the photographer. Several months later, the museum gave him the e-mail address of Erik Troelson, a Danish businessman who was stranded in the tunnel on his way to a meeting when he snapped the picture of Gary.
Having entered the tunnel, Troelson was unaware of the event that was taking place outside.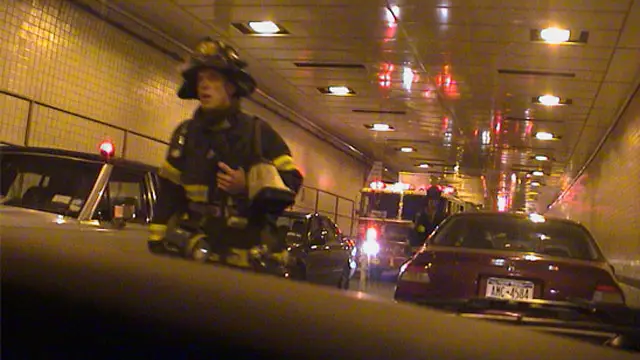 "Suddenly, the girl in the car in front of us got out crying," he said. "Then we turned on the radio and heard the events as they unfolded."
Soon after, firetrucks started racing through the tunnel, but a car with blown-out tires jammed traffic, he said.
"Some of the bigger trucks got stuck, so the guys started walking briskly past us," Troelson said. "Gary Box was one of the guys."
Box and Troelson corresponded via e-mail for months, with Troelson doing his best to recall the day's timeline of events.
On Tuesday, the National 9/11 Museum and Memorial foundation arranged for a surprise rendezvous between the men at their annual fundraiser.
They shared an emotional moment onstage. Afterward, they spoke at length, with Box expressing his gratitude.
"I think I said about 300 times thank you and God bless you, that's all I could say," Box said. "I think I told him I love you, and I don't tell anybody that."
Many years after September 11, Box said he still feels the pain of that day. He doesn't have the means to make large donations to the museum, but has sought to promote their cause through his story.
"We need that in this country because too many people forget," Box said of the museum.
"I wish everybody could get what I got."