A cadet firefighter was decorated with his badge with the Cleveland Fire Department, but there was something sentimental about his badge of honor.
Cadet Justin Leon, along with 19 other cadets, graduated and took the oath of office from the 34th Fire Training Academy Class in Cleveland.
The graduation was an emotional one for Justin as his mother, Grace Leon, pinned the badge on him — a badge that was issued with the same number, 1338, as his late father.
Justin's father, Wayne Leon, was part of the Cleveland Police Department. He was shot and killed in 2000 when Justin was only 5 years old.
"I've always wanted to do something to help people, and I've wanted to do something with safety forces," Justin told Fox 8.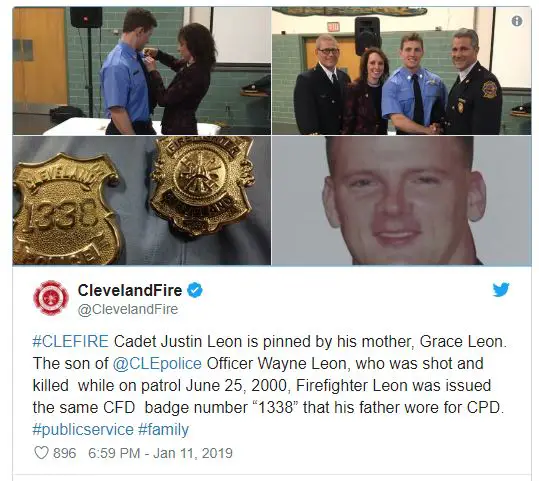 "To be 19 years later and to have his son come join us on the Cleveland Fire Department, his family being so dedicated to the citizens and visitors of Cleveland that they continued that service, I think it's really important, it says a lot about Justin and his family," Lt. Mike Norman, who was the first responding officer when Wayne was shot in 2000, said.
Justin's role as a firefighter will keep his father's "generous" legacy living on.
As he was young when his father was killed, Justin recalled what others said of his father.
"I've always been told that he was very generous and very helpful and he was always just wanting to do the right thing and that he was always the guy to call when someone needed help," Justin said.
The Cleveland Police Department shared Justin's story on social media, writing in the caption: "All the best, Justin. Your dad is smiling down on you today!"
"It's almost just like the legacy kind of lives on in a way," Justin said of his pride to have the opportunity to wear his father's number on his badge as he serves as a Cleveland firefighter.