Adding a furry friend to your family isn't a decision to be made lightly. There are so many different breeds, requirements and temperaments to consider, not to mention how fast you'll fall for this adorable creature.
Then when you finally narrow it down to a couple of animals that might work for your family, you get to focus on the exciting part and think about colors and markings, collars and puppy blankets. Georgia firefighter Aaron Salkill had been thinking about adopting a dog, so when he was approached by a friend about taking in a Dalmatian puppy, he couldn't believe it!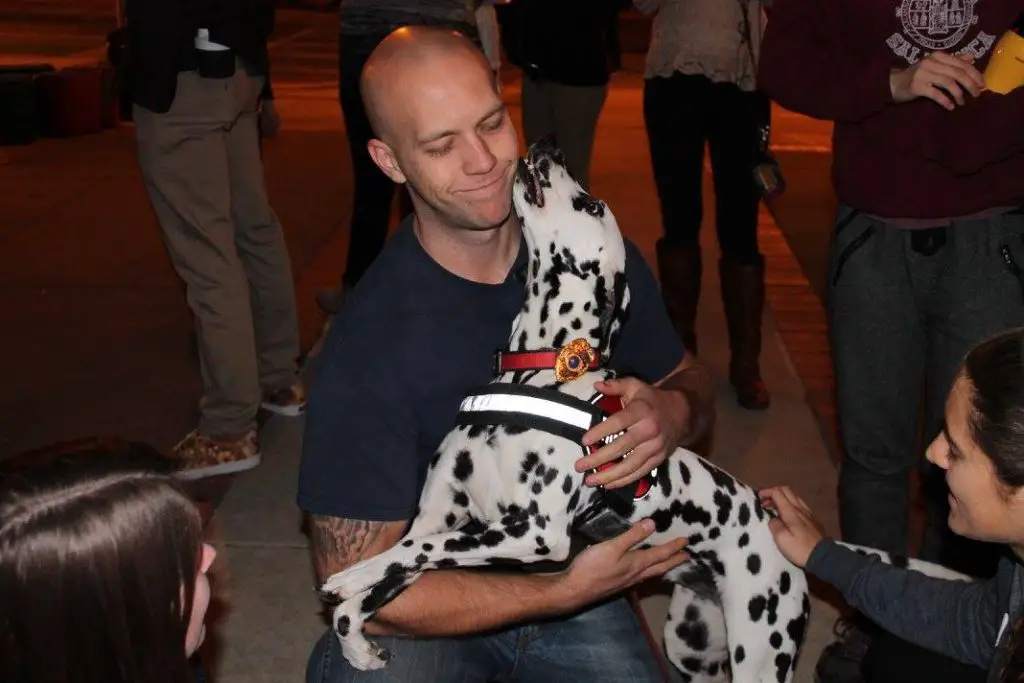 How perfect would that be? A firefighter paired with a Dalmatian?
"I nearly jumped out of shoes with excitement … I knew I had to meet her, so I raced to my car and went to the vet's office where she had been abandoned by her previous owners."
No one knew why the sweet girl had been dumped, but Aaron was in love with the spotted and dotted three-month-old Dalmatian. Aaron described it to Love What Matters as "love at first sight."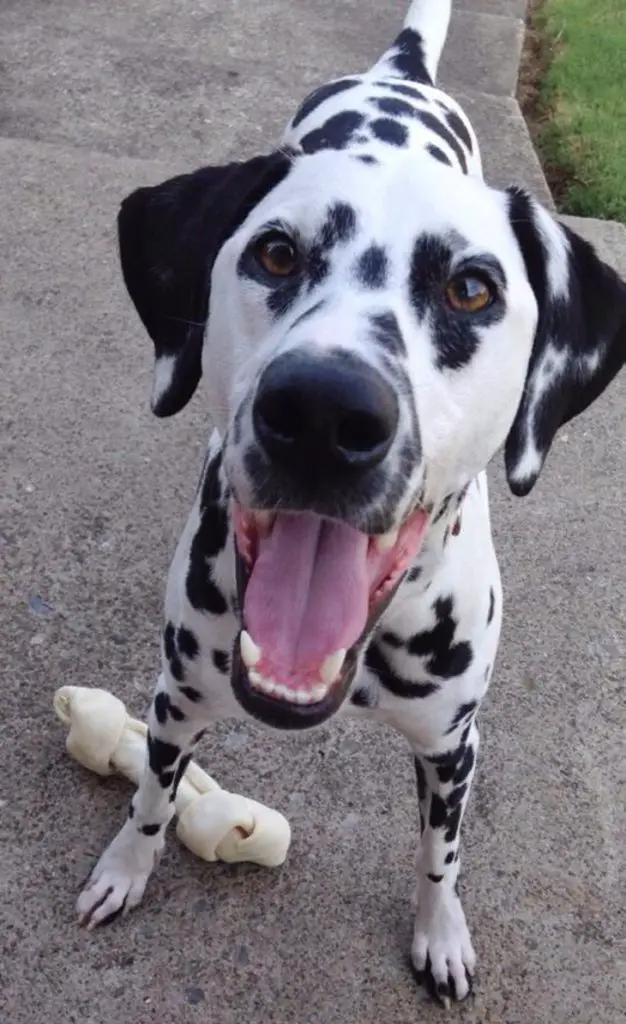 The puppy's name became Ember, since she belonged to a firefighter. Aaron spent the next year attempting to train this sweet and lovable dog who also was surprisingly wild.
"She had more energy than a preschooler on Redbull. The only way I knew to keep her from going crazy was to wear her out as often as possible. This meant countless walks, hikes, fetches, tug of wars, and afternoons at the dog park. All of this time spent out in public led me to make another wonderful decision. Each time we would go out I would constantly hear squeals of joy, 'The fire dog!,' 'Pongo!,' 'It's Marshal,' 'Look mommy its Sparky.'"
Ember and Aaron quickly became a hit at the playground. Lines of children would form to see Ember and pet her.
That's when it hit him! If this many healthy kids were interested in seeing Ember, how much of an impact could she have on pediatric patients stuck in the hospital?
"I knew I had to find out. The next day Ember and I started on our quest to become a certified therapy dog team. We spent countless hours practicing and training. I spent more than a year perfecting our craft and getting Ember in as many different situations as I could. When I finally felt we were ready, we took the certification test for the Alliance of Therapy Dogs. Ember easily passed with flying colors. I was beyond proud of what we had accomplished together, but I also knew that our real goal still lay ahead of us."
Their first hospital visit fell on Halloween night. They interacted with kids who heartbreakingly couldn't leave to go trick or treating.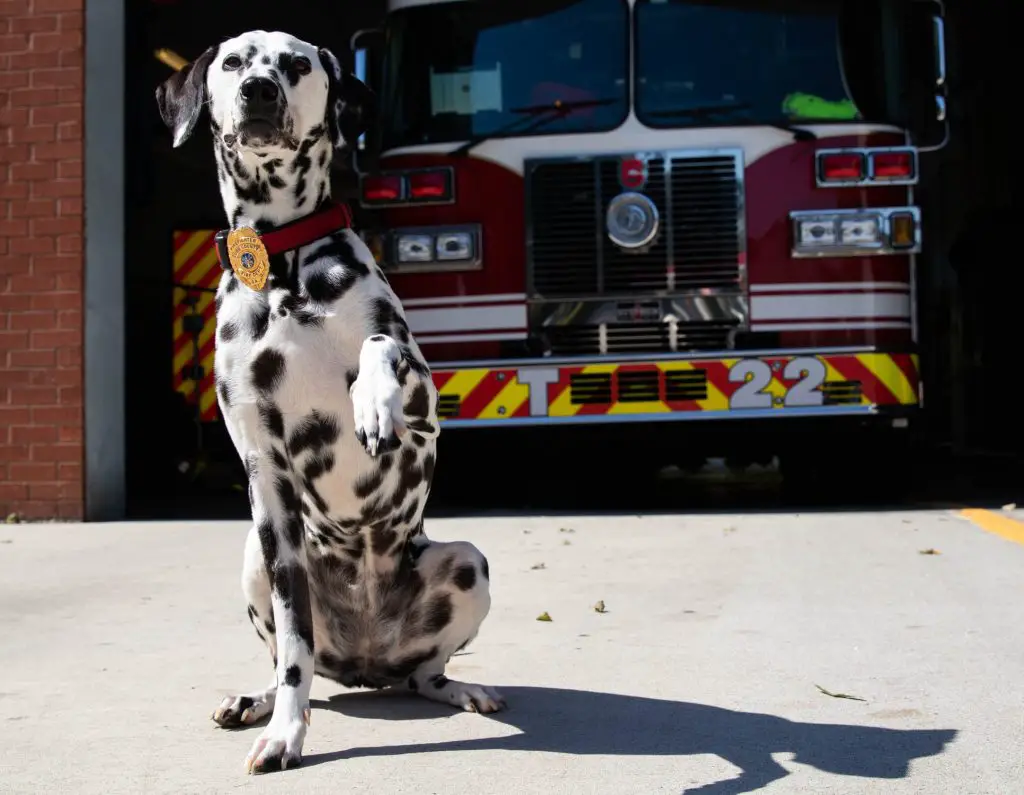 "After she had gone, her mother came up to me gently sobbing and began to thank me for bringing a smile back onto her daughter's face. She went on the explain to me this was the first time her daughter had so much as walked in weeks. The chemo had drained her of all desire to move until the excitement of seeing a real Dalmatian had given her the energy to run. That single thank you was one of the most rewarding moments in my whole life."
Ember quickly drew a legion of fans at local hospitals. She also worked as the fire safety dog at the Cobb County Safety Village helping educate kids about fire safety and how to carefully interact with dogs.
Her magnetic personality also helped kids at an autism camp. The parents there couldn't believe how Ember connected with their kids in a way no one else could, especially one particular boy.
"After displaying a few of Ember's many tricks, the boy asked me if he could make Ember sit and wave hello. I handed him a treat, and Ember became putty in his hands. She performed the simple commands the boy made, and was graciously rewarded with a treat and a giggle of delight … Yet again, I was approached by an emotional mother. She asked me where she could get a service dog for her son, and explained that he was almost totally non-verbal. After I explained to her that Ember's certification was different than a medical service dog, the gravity of what had just occurred began to sink in. Ember had worked her magic in a way that only she could and I hadn't even realized it."
Ember even found Aaron romance! The nurses who had fallen in love with Ember also developed a fondness for Aaron and set him up on a blind date with one of their friends who eventually became his wife.
But after just five years of being Aaron's sidekick and a source of happiness and healing for others, Ember became the patient. Her teeth were failing for some reason and so were her kidneys.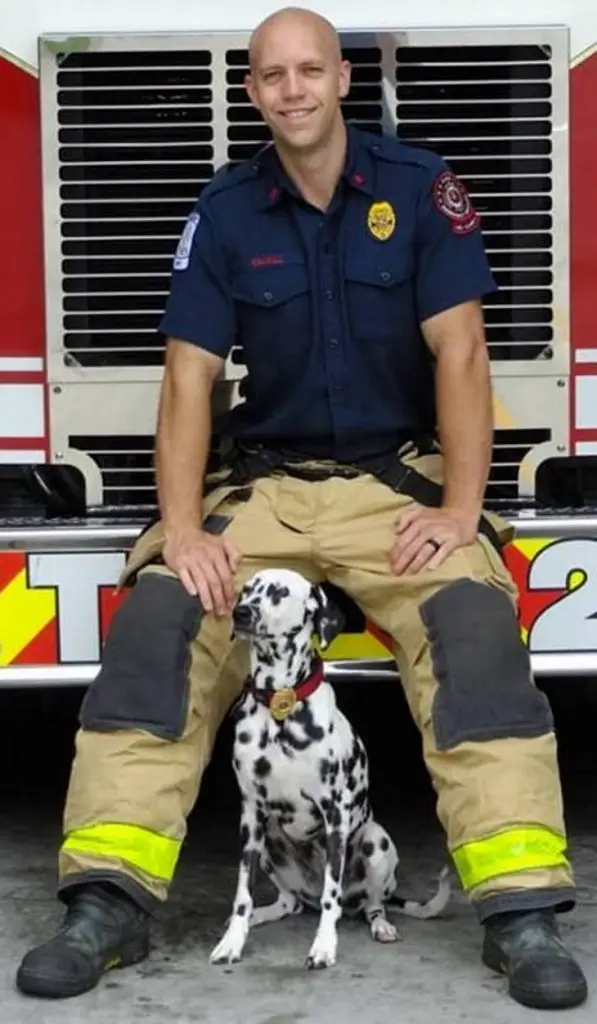 They were told that nothing could be done to spare Ember's life. So Aaron filled Ember's last days on earth with as much fun and love as he could.
"She went everywhere with me, and I refused to let her leave my side. We spent a few last days visiting kids at work, having multiple photo shoots with local fire departments, hiking to her favorite creek for a fun day in the water, and most of all, cuddling on the couch.Until the very end, Ember was still lighting up faces. The very last time Ember walked into the vet's office, I heard an all too familiar sound. There was a young girl there that could not take her eyes off of Ember. In my rather emotional state, I did not think to stop and let the girl pet Ember. Ember knew better. Even though she was a very sick pup, she still paused next to the girl long enough for a pat on the head. The girl smiled from ear to ear, and my heart warmed as I fought back my tears."
Even though Aaron had to bid her goodbye, he knew that Ember had truly made a difference in the short time she was on earth. Her memory will live on, not just in Aaron's heart, but also in those whose lives she so tenderly touched.