Following a neighborhood disturbance, a Texan dog owner, Geoff Wightman, reached out to the Round Rock Police. He informed the dispatcher that he was at home with his four-year-old son and his protective Australian Shepherd named Jillaroo. Officer Randall Frederick arrived at their residence unexpectedly, catching Geoff off guard and leaving him with no time to secure Jillaroo. When the officer approached the door, Jillaroo reacted instinctively, biting him on the leg. Rather than responding with force, Officer Frederick chose to handle the situation with compassion, attempting to calm the loyal and protective dog. As a result, the grateful dog owner thanks the officer for his actions.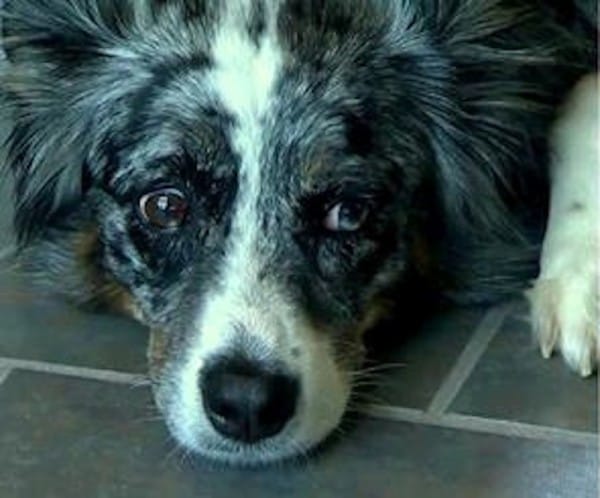 Geoff's letter:
"Today, I needed to file a report about a disturbance and the dispatcher who took my report said the patrolman would call before he arrived. We have one dog (an Australian Shepherd) who is very protective of my family.
"When the officer arrived and rang the doorbell earlier than I expected, I ran downstairs, but my four year old son was already at the door with our dog. When my son opened the door and started to approach the Officer, the dog immediately put herself between him and the Officer and ended up biting the Officer twice on the leg – not viciously, but still creating bruises and breaking skin. The Officer was slowly backing up and trying to get her to calm down with outstretched hands. Luckily I was there an instant later and separated her.
"The Officer then proceeded to take my report about the issue I had originally called about in a very calm and professional manner. I asked him if my dog got him and he said "Yeah a little – I am sorry I should have called first." (He did not need to call or apologize at all). Protocol necessitated he call in the bite (understandable) so that Animal Control could take a report and do a rabies vaccination check and the standard 10 day in home quarantine – BUT that's where it ended. The Officer did not strike back against my dog during the incident, did not act disproportionately, he did not file charges or wish her punished, but instead said "She was just doing her job."
"He was absolutely professional and trained and we thank him for it, as we know it could have turned out very differently. I am a grown man, a veteran of both Iraq and Afghanistan, and I am getting emotional over this. We love our sweet dog with all our heart but she is extremely protective, which is a quality in this day and age that is both bad and good with an outcome that always comes down to who is involved.
"I tried to look up news stories where Police Officers had been bitten by dogs to glean some perspective, but all I saw were terrible stories where dogs were being tased and shot by the Police – sometimes with very ambiguous circumstances.
"I want everyone to know that in Round Rock, TX we have some pretty darn fine police officers who do a job a lot of the time without much thanks or recognition. This little incident should show you what kind of caliber people we have protecting us and maybe they should get a little credit from time to time for doing things right that nationally seem to be very difficult. I will be shaking all RRPD Officers hands when I see them from now on."
Appropriately, Officer Frederick has also been commended by his department for his handling of the situation. He received a Chief's CHIP Challenge coin in recognition of his compassionate and intelligent response to the situation.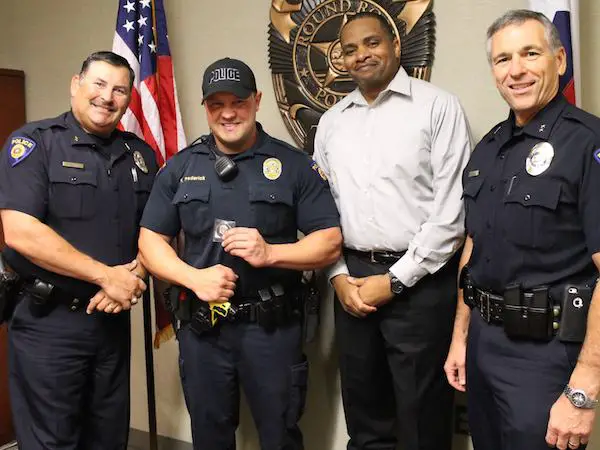 Officer Frederick's compassionate and intelligent handling of the situation has earned him commendation from his department. He was awarded a Chief's CHIP Challenge coin for his actions. The department's BARK (Be Aware of Residential K9s) program, aimed at educating officers on handling family dogs, proved to be effective in this case. The program also urges pet owners to register their dogs with the department so that dispatchers can inform officers about the presence of pets at the scene. Amidst the numerous unfortunate incidents of police officers shooting dogs, it is heartening to hear a positive story that highlights officers' efforts to comprehend canine behavior and react appropriately.
Don't forget to share this inspiring story with your friends!